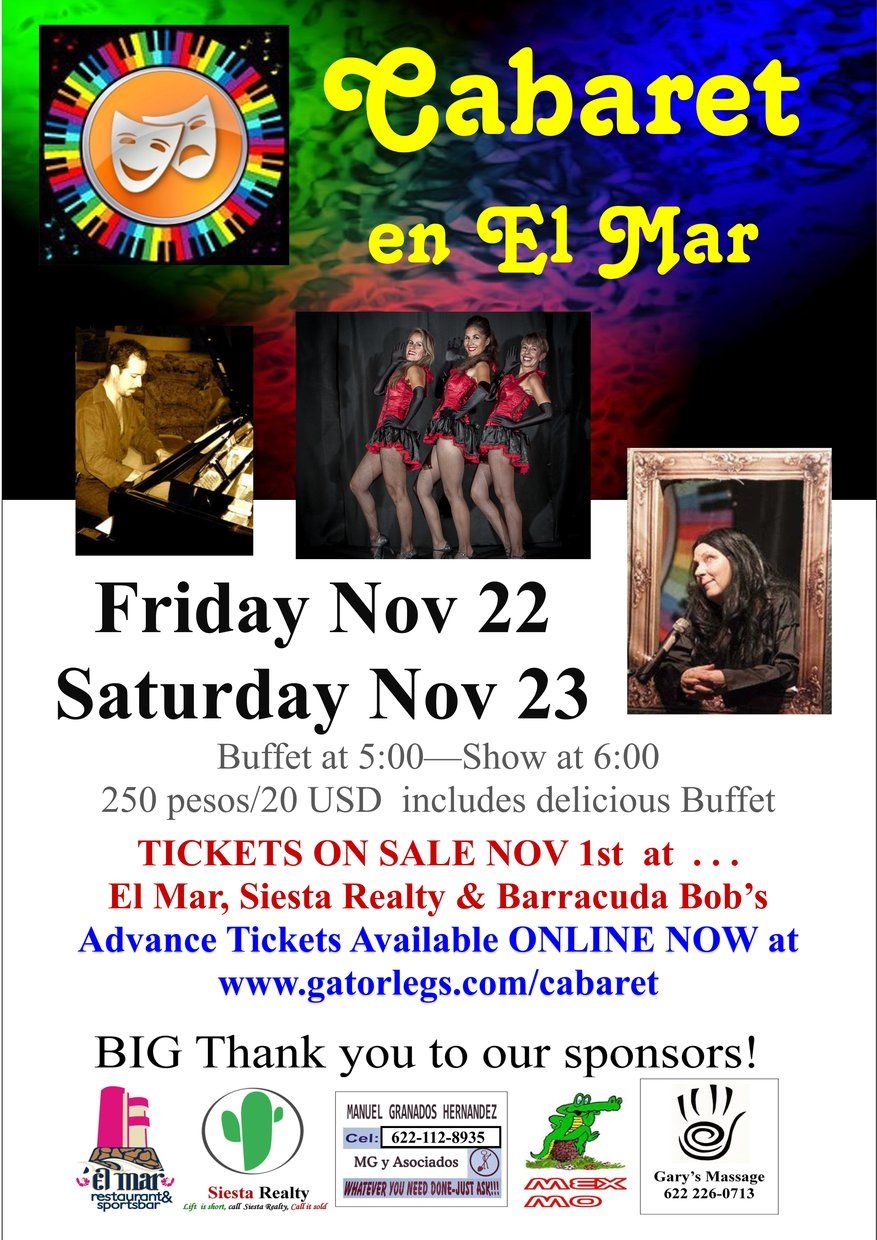 ONE WEEKEND ONLY!
November 22 & 23, 2013
 Friday &  Saturday 6:00 to 8:00pm
Cabaret en El Mar is a variety show of sketch comedy, dance and live music.  Produced by Mexmo San Carlos, the upcoming multi-national cast will feature many of Guaymas and San Carlos' favorite entertainers including the fabulous dance troup,  Las Adictas al Baile, the mega-talented local band Llamas de Amor (featuring Carlos "Chacho" and Manuel Munguía,)  pianist extraordinaire Omar Gerardo Arriaga, Susan King's Steel Drums, BIG band with Sam Rainwater, musical comedy by Bobby Sahlen  and a Classic Rock segment featuring Leslie Sahlen, Bliss Cochran, Neil Duvall, Rand Gahart and Rich McDaniel. The show's appeal is to both English and Spanish speaking audiences.  
Tickets are 250 pesos which include show and delicious Buffet prepared by El Mar Restaurant and Sports Bar. Special room rental rates at the beautiful beachside La Posada Condos.  Buffet is served at 5:00.  Show starts at 6;00pm and runs two hours. Advance ticket purchases are encouraged as NEWLY ENLARGED seating is limited to 150 per show.
Quote From Leslie Sahlen
"Hola my darlings. A health scare over the summer got me thinking about my personal bucket list. I feel so blessed by the terrific response to last year's season of Cabarets.  The success was due to the professional casts, crews, sponsors and staff who lovingly worked many months to create memorable evenings of entertainment.  Cabarets require me to wear many hats (Producer, Director, Writer, Box Office, Performer, Publicist, House Manager, etc. etc. etc.)  I simply don't have the strength to do a full season this year. So, ALL goes into this show in November! This will be the best Cabaret to date.  New characters, old favorites (Mona will be there,) and musical segments featuring my personal "Bucket List Band" of AWESOME local musicians, and a "Bucket List Band" for Sam Rainwater too! (FYI Sam's local appearances benefit the Castaway Kids charity) Not sure what the future holds for me.  My list also includes releasing a solo CD,  being invited to Liverpool with Chris Montez (hear me Chris? hint! hint!) and possible projects with inspiring local young musicians and the Guaymas orchestra.  For now my darlings, the only confirmed appearance this year by moi is this ONE,  so be sure and get your tickets in advance.  Thank you to my friends and fans. Love you! See you November 22nd and 23rd!"
L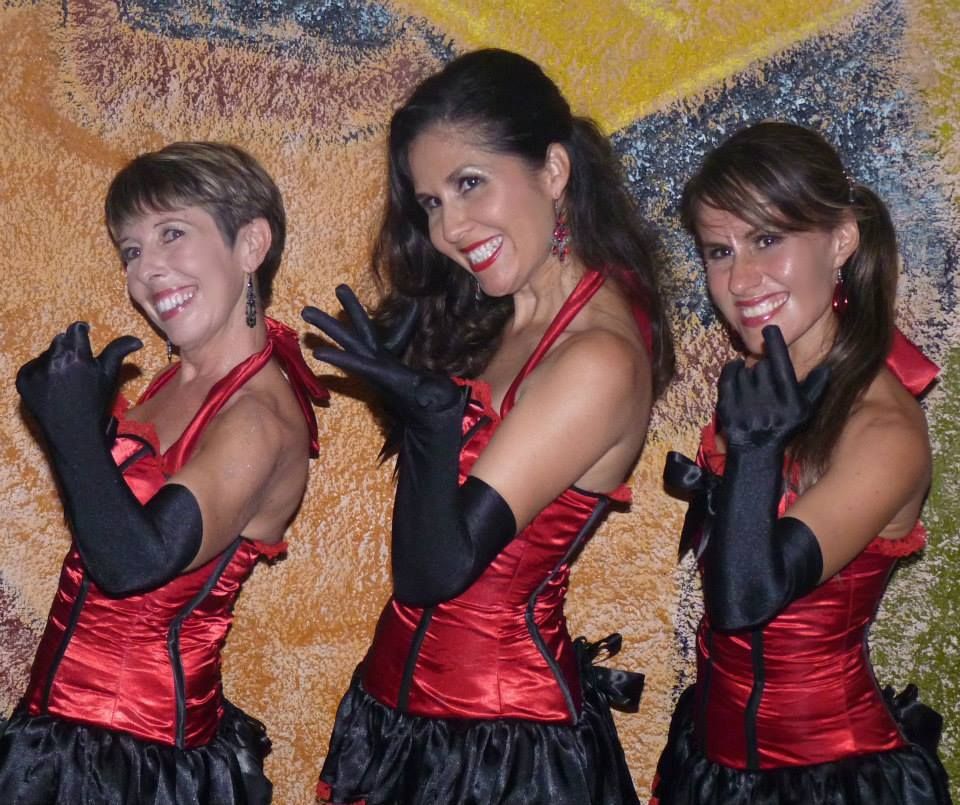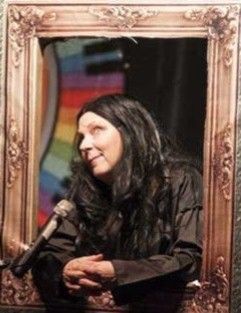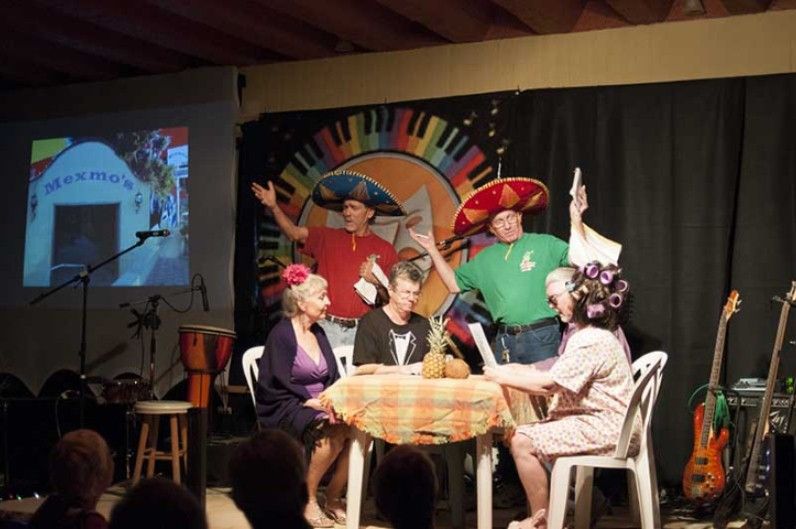 LAST SEASON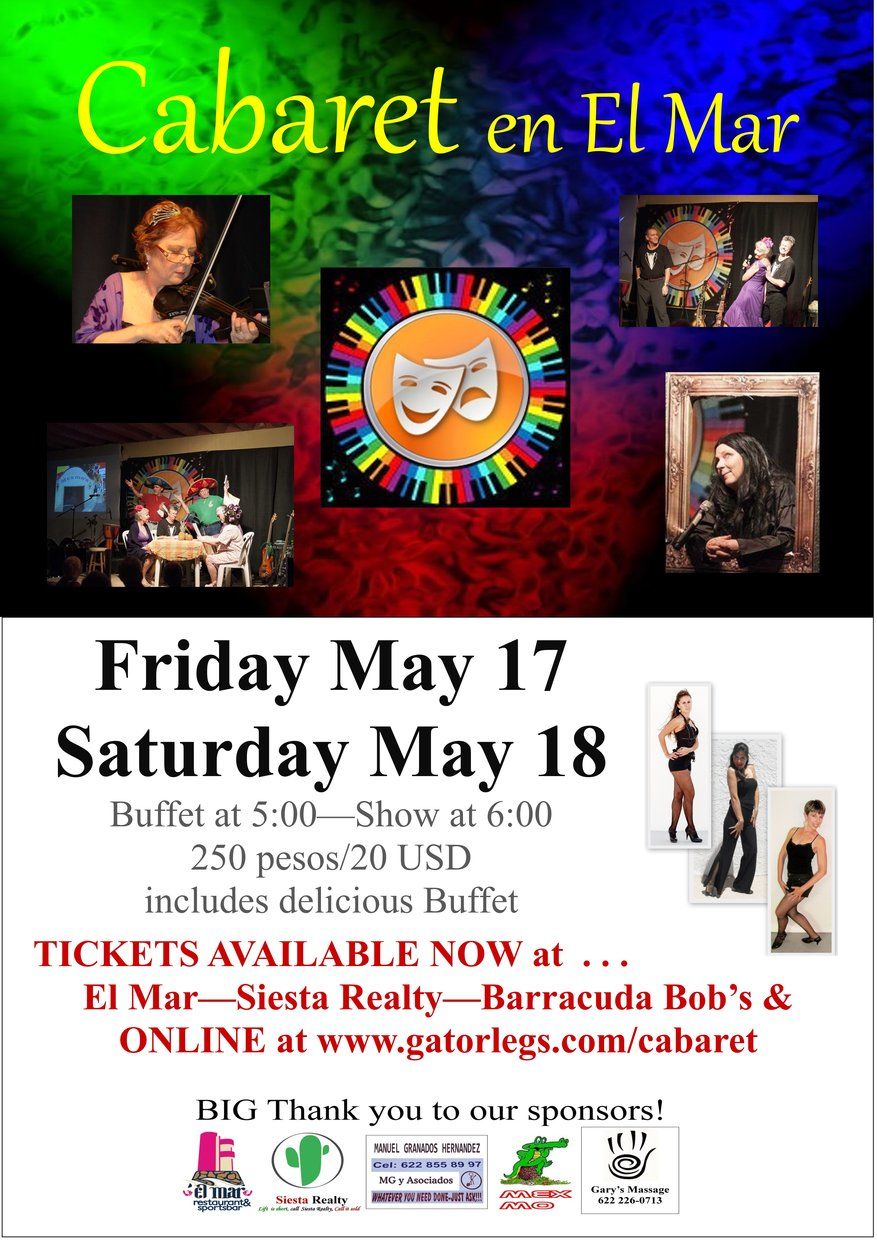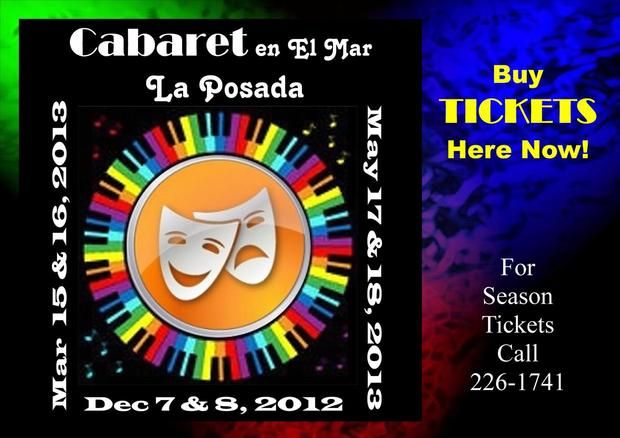 Cabaret en El Mar is a multi media Las Vegas style show utilizing rear projection video, sketch comedy, theater and live music. "The El Mar has a lovely back room that is perfect for a classic supper club atmosphere. With a climate controlled and intimate environment we're able to create a showroom theater experience unique in San Carlos. The costumes alone are worth the price of admission!." Produced by Mexmo San Carlos, the multi-national cast of 10 features many of San Carlos' favorite individual performers including Peter Pope Jones, Bobby & Leslie Sahlen, Neil Duvall, Bliss Cochran, Rand Gahart, Rich McDaniel, with choreography by Michelle Duvall. The show's appeal is to both English and Spanish speaking audiences. 

These special events will only be staged THREE weekends during the season. There will be evening performances on Friday and Saturday with an afternoon matinee performance on Saturday. Dates will be the week ends of Dec. 7 & 8, March 15, & 16, May 17 & 18. Tickets will be 250 pesos which include show and buffet dinner/lunch prepared by the terrific El Mar Restaurant at La Posada. Advance ticket purchases are highly encouraged as seating is limited to 90 per show. Tickets will go on sale November 7, 2012.